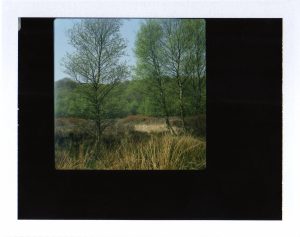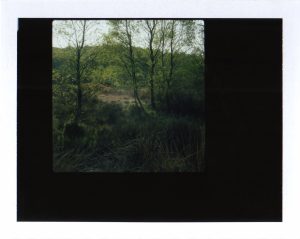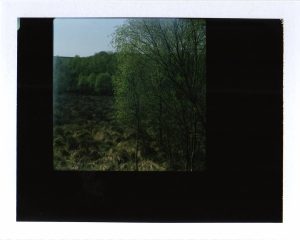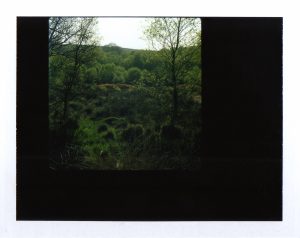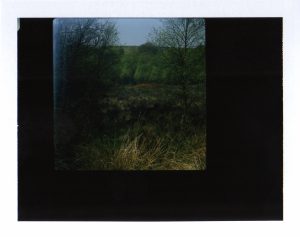 The Scape
This sequence looks at my interaction with Nature through an interconnected Scape, portraying a sense of this place as a walk.
Crops, land, religion, mysticism, historically resonate in this upland landscape: Surrounded by agriculture, monastic plight in echo.
High in biodiversity – this is scrub birch copse – Peatland Mire, Moss.
It contributes to the broader ecosystem through the storage of large amounts of carbon, controls flooding and sustains rare species. But my connection to the physicality of The Scape is in the childhood landscape it represents and the mixture of places this landscape holds.
The Black surround of the format of the instant picture minimising the image connects me to the childhood memory. The cropped full frame in repetition represents my present-day connection; The contrasting scale and the nature of the medium portray this juxtaposition.
I started using Polaroid in 5/4 format in the studio; it was a process of experimentation before finalising an image for the film. 
The transference of the picture always fascinated me – the right temperature, the right timing. The smell.
When I started working on location, I used medium format, Fuji Instant 100 as the final image and I was working with them for their qualities; the purity – almost naivety of the instant film in the way the emulsion sinks resulting in a soft image, and due to the smaller size a tactile quality that makes them two dimensional objects of themselves.
 I made the polaroids at the start of the series, "Colour from Black," filed them and then made this sequence in 2017.
The Scape was Included in the shortlist for FOTOFILMIC17, Physicality as Land Connection and featured on the website as a portfolio page.