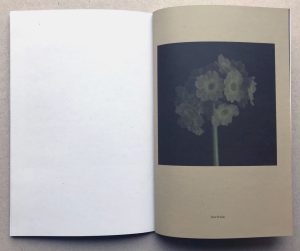 "Scent is almost palpable.The photographs are motionless, quiet, painterly. Several of the photographs are barely there – flowers subsumed by their velvet and by differently coloured surrounds that frame each one. The surrounds shift across lilac, sage, dark brown, dark grey and bruised purple, building a vocabulary of colour that informs the reading of the photographs. They have something of an emotionally charged atmosphere though it is hard to pinpoint exactly which emotion we ought to feel."
Excerpt from the Essay by Anneka French for Photomonitor:
Everything looks different in the dark.